How to improve your Amazon listings, so you don't lose money? Are you an Amazon seller impacted by recent fee changes? Maybe you're undergoing a loss of sales due to compounding logistical issues, or perhaps you're one of many left holding the bag from Amazon's firm stance on ranking manipulation?
Unfortunately for most sellers, the knee-jerk reaction to regain ranking and sales on Amazon comes with a heavy price: a loss in ranking, sales and an unfruitful attempt to hold ground as the competition takes over top placements.
The most crucial element to the Amazon digital shelf that is often overlooked is the Amazon FBA listing. The Amazon product listing is the foundation of your FBA business on Amazon. If not adequately optimized, the lean towards bigger ppc budgets and campaigns isn't really all that effective.
In this article, we'll talk about the proven steps you can take to improve your Amazon listing so you don't lose money to help you increase your sales and organic ranking.
Reasons Your Amazon Listing Is Losing Money
When your Amazon listing isn't effective, people either do not see your ads (since they don't rank high enough) or aren't compelled enough to stop and read the fine print or any print at all.
The slightest error on Amazon can mean the most harmful impact. Spelling and grammar, poor visuals, feature-focused copy, emojis misrepresenting your brand voice, clickbait that causes buyer confusion, or the tiniest misrepresentation of your product offer. Each of these scenarios garners less attention, fewer clicks, and far fewer conversions.
Avoiding an ineffective Amazon listing means ensuring all the details that make up your listing are impressive and impeccable. A best choice badge-winning approach means continuous optimization for different phases of the trajectory of your sales on the world's largest online marketplace.
Keywords Are The Key to Visibility on Amazon
The importance of keywords cannot be overemphasized on Amazon. Customers input keywords or search terms to make their shopping experience quicker. Keywords are how your products become relevant.
You'll need to focus on keyword relevancy and search volume to rank your products higher. The higher the relevance and the higher the search volume, the more likely that those keywords are your highest converting keywords specific to your product.
Sounds easy, right?
With millions of products and competition, finding the most relevant, highly searched keywords for your Amazon listing is no small feat.
Keyword Relevancy
For example, if you sell a single-serve coffee maker, avoiding the broad keyword 'coffee maker' and adjusting relevancy to meet 'single-serve coffee maker' will mean you target the exact customer searching for your product and the correct keyword to describe the search term.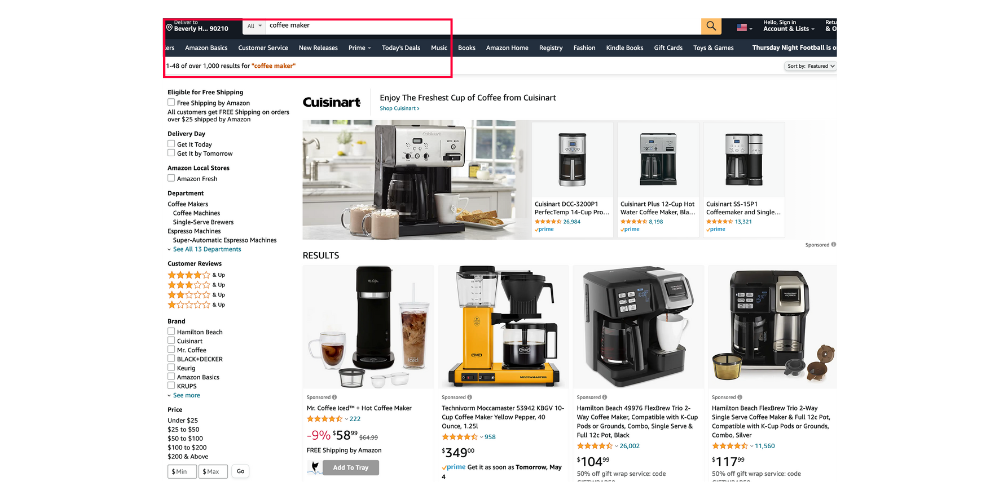 As an Amazon seller, the biggest mistake you can make is to target overly broad search terms that lack relevancy. 
Keyword Placement
Did you know that the biggest impact placement of your keywords is the first few spaces in the Amazon title? These keywords need to be the most SEO-rich and make the biggest impact.
The bullet points, HTML product description, and backend search terms are other significant placements to consider.
You'll want to optimize these areas for the most relevant keywords based on seasons, holidays, changes in your product offer, and ideal audience.
Leverage cutting-edge keyword research tools to generate more keyword options to add to your listing. Do your research and remember the two most vital aspects of keyword research: relevancy and search volume.
Your Amazon Title is Crucial To You Not Losing Money
Now that we've established just how important keyword research is to the success of your Amazon listing and sales, it's crucial to understand how to craft a conversion-worthy Amazon title so you can outrank and outsell your competition.
The Amazon title must meet specific requirements and follow Amazon's terms of service. Most titles must adhere to a 200-character limit depending on the category. To learn more about Amazon's title requirements, see the product page style guides in Amazon Seller Central. Here you'll find the best practices to employ in your Amazon listing to ensure you don't lose money and meet Amazon's terms of service and requirements.
Once you've found the top-performing keywords for your product and listing, you'll want to order them by search volume and relevance in your title. Start with your brand name, and add any mentionable product attributes or pack quantities so that these attributes are not truncated on mobile. Separate each keyword phrase by a space and a dash, and avoid commas as the algorithm may be less likely to recognize individual keywords with commas.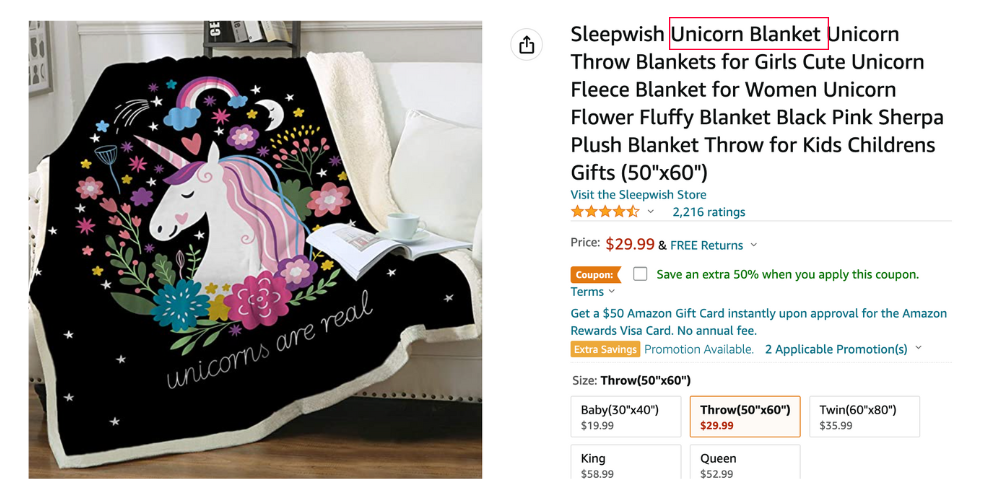 Here's what to avoid in your Amazon title:
All caps
Promotional terms like best, sale, discount, etc
Excessive length
Symbols
Price
Irrelevant keywords
The mobile view of your Amazon listing is crucial as more shoppers purchase on mobile than ever before. Amazon truncates titles around 80 to 85 characters on the mobile view, so keeping your most relevant and highly searched keywords will be paramount to the success of your listing.
While the images in your listing are paramount, as are the keywords, your title can make or break your visibility and your sales. To improve your Amazon listings so you don't lose money, you'll need a fully optimized, TOS-compliant title.
Your Price Should Match Your Offer
If you price too high or too low, you either overvalue or undervalue your offer. Customers are skeptical at best when they knowingly understand the volume of fake reviews they read. If you give your customer one more reason to click away, such as a price conflict, they'll take it.
When searching for products online, the average shopper has a budget. In most cases, shoppers compare prices before deciding where to buy a product. Ensure your prices are slightly below or at par with similar listings to make the shopping experience fair.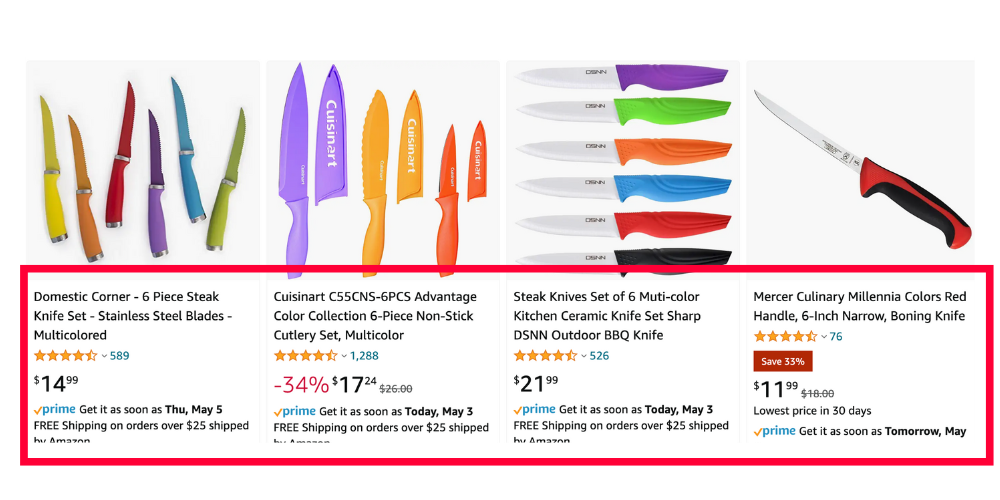 That said, if your offer is remarkable and second to none, you could try to price higher to differentiate and maximize visibility with price alone. This may or may not be effective, though, so understanding your buyer persona and the market is essential.
Some sellers may opt to use re-pricers that automate pricing based on several factors, including the price leveraged by your competition, time of day, and changes in ranking.
Price is essential to improve your Amazon listings, so you don't lose money.
Images That Stand Out on Amazon, Stand Out
Pictures are an absolute game-changer for making more sales on Amazon. The average human tends to be attracted to good graphics and positive imagery to demonstrate the benefits of products to their daily lives.
These visual descriptions are powerful because they are aesthetically pleasing and attract effortlessly in less time to compel shoppers to fall in love with your product.
Poor photo quality hampers your sales and gives customers the impression you aren't putting effort into your business. They can have doubts about your brand and products. Even as a globally recognized brand, images can mean a drastic increase or decrease in sales.
In some cases, poor images may result in bad reviews if customers believe you've sent them something below their expectations. The last thing you want on your Amazon product listing is a bad product review – bad reviews can spark a domino effect on your other products and break down customer trust.
Images sell products on Amazon and are one of the best ways to optimize your Amazon listing, so you don't lose money.
Final Thoughts
The Amazon marketplace is massive, and as more shoppers join the platform to hunt for problem-solving products, the opportunity to make money on the online marketplace is only growing, especially with the peak of the digital dawn upon us.
Following these tips to improve your Amazon listings, so you don't lose money can help you stand out from the competition, increase your sales and organic ranking, and smash your targets for 2022.
If you're looking to scale your Amazon business, Mayan can help! With an intuitive dashboard, in-depth reports & analytics, and a friendly, caring support team, Mayan helps Amazon sellers build effective ad campaigns and strategies. Book a call to get started.
The Benefits
We have developed a proprietary refund search engine that reviews our clients' accounts.
Our proprietary system executes all aspects of the reimbursement process, within Amazon Terms of Service, from identifying, filing, and managing potential cases all the way until recovered funds are deposited to your account.
This allows you to focus on scaling your business.
No risk or commitment. There's no sign-up fee or fixed monthly charges. We simply charge a 25% recovery fee after the money is deposited to your account.